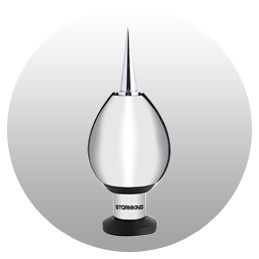 ---
Advance Lightning Protection
---
Stormking ESE range of terminals provide a safe, efficient and cost effective system for protection from direct lightning strikes. Stormking ESE terminal captures the lightning energy at preferred point, which is then conveyed to the ground via a low impedance down conductor(s) The energy is safely dissipated in the ground via dedicated and stable low resistance earthing.
Operation of Stormking Terminal
The Stormking Early Streamer Emission air terminal uses the naturally occurring electrical field to complete the timely release of an upward streamer. This process provides for a safe and efficient method of controlling dangerous lightning energy at a preferred point
As a thunderstrom gathers overhead, the ambient electrical field surrounding the Stormking ESE begains to rise in voltage. Upon the approach of the downleader towords the protected area there is a rapid increase in the electric field which initiates the triggering of an upward streamer from the Stormking ESE terminal. The concept of earlier allows for a larger or enhanced area of protection to be provided by the Stormking ESE in comparison to a conventional rod. With the release of the upward streamer from the finial tip earlier than other competing structural points, the Stormking ESE terminal becomes a preferred point for the capture of the lightning discharge within the protected area.
The superior features results in superior protection. The performance has been certified by an independently accredited test laboratory in full compliance with National French Standard NFC 17-102 :2011. The testing of Stromking ESE Terminals showed effective performance as defined in the National French Standard. The Stromking ESE Terminals have also been tested and certified for high current carrying capacity as per IEC 60-1:1989 Standards.
We are the soul manufacturer of MARS Earthing System. Our MARS Earthing's earth rods are commonly utilized as the principle earth electrode in the design and installation of an earthing system. MARS offers a selection of copper bonded steel earth rods which are manufactured to meet International Standard such as BS 6651, BS 7430 UL 467 and IS 3043. MARS copper bonded rods are manufactured by bonding a copper layer to a steel core through an electrolytical process that ensures a perfect and even molecular bonding between steel and copper.
The 250µ copper bonded steel core rod is the most commonly used type of earth rod due to its
Overall combination of strength, corrosion resistance, low resistance path to earth and cost effectiveness.

250µ copper bonded earth rods typically have a life expectancy of +30 years.

Where space constraints restrict the installation of an extensive earthing system, deep driven rods provide a cost effective solution in achieving a low resistance earth.
Copper Bonded Earth Rods
The Life expectancy and performance of an earthing system can be influenced by the type and quality of the copper earth rod that is installed. MARS Earthing has two copper clad earth rods which have both been subjected to the same pressure load test. The lower earth rod is an MARS 250µ copper bonded rod which is free from cracking or tears to the outer sheath following the pressure test. The copper clad rod on top has clear evidence of cracking and tearing to the outer sheath. The installation of earth rods involves driving the rod into the ground. It is the process where inferior quality copper clad rods are likely to be damaged resulting in cracks or tearing to the outer sheath which will significantly reduce its serviceable life and placing the integrity of the whole earthing system at risk.
MARS 250micron Copper Bonded Earth Rods are available in following sizes:
5ft. (1.5 Meter) Length × 5/8" Dia.

6 1⁄2ft. (2 Meter) Length × 5/8" Dia.

10ft. (3 Meter) Length × 5/8" Dia.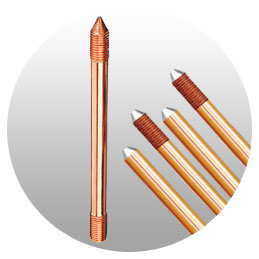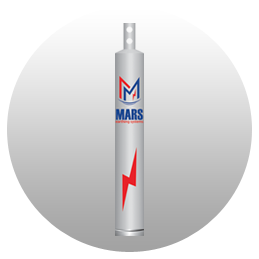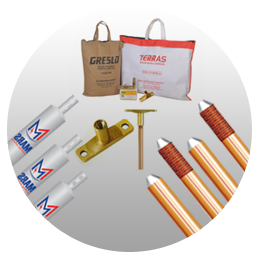 ---
Earth Enhancing Compounds
---
The application of earth enhancing compounds around the conductors in an earthing system aids significantly in achieving the desired low resistivity levels required for an effective earthing system.
Significantly reduces earth resistance.

Long lasting treatment with no maintenance required.

Effective under varying soil conditions.

Cost effective in comparison to conventional methods.

Minimal seasonal changes in resistance values in comparison to conventional methods.

Easy to handle and install.

Does not adversely affect soil.

No maintenance required.

Environmental friendly.
Earth Rod Connector (ERC)
MARS ERC is a single piece connector which is screwed on to the earth rod. This eliminates various moving parts which are integral to a clamp, minimizing maintenance. The ERC has a provision to connect strip or cable lug by a S.S nut & bolt arrangement.
Ground Filling Compound (GFC)
MARS GFC is highly recommended chemical compound used during the installation of MARS earthing system, for superior maintenance free protection.